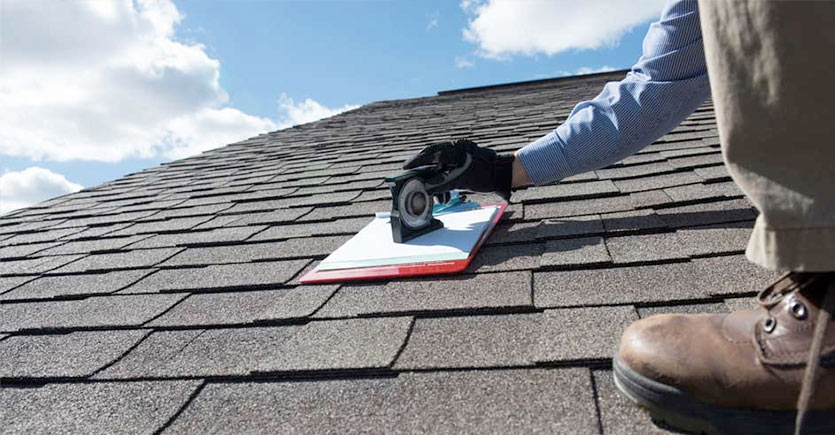 Have you stood and looked at that round stain on your ceiling and then realized you have a water leak from somewhere above? It can happen, even in Peoria, high winds can dislodge tiles or shingles and leave enough of a gap for water to seep in when it rains.
My roof is leaking what should I do?
The first thing to do, is not to panic, if you have a stain on your ceiling, it might not be that drastic, yet you do have to get it looked at as soon as possible. If it is likely to rain, this puts another element of urgency on your problem, as what can be a stain today, can be a hole tomorrow if enough water can get inside your home.
If you notice your roof leaks in heavy rain, it is wise to get a roof leak repair as quickly as possible. Water can cause vast amounts of damage. You will also find, the area where you notice the spot; the leak might not be directly above it.
Water has the habit of finding the lowest point possible before it starts to drip, so, if you have a pitched roof, the leak could be on the opposite side of your room.
My Roof Leaks in Heavy Rain
If it is raining or has been recently raining, and you see you have a water leak. You should quickly call Peoria Roofing. We can have one of highly skilled emergency roofing teams to assess your problem.
No matter what the weather, there is something they can do, even if it is until the weather breaks and they have an opportunity to assess all of the damage.
If you are lucky, it will be a new leak, yet if you have had it a while and the inside of your roof has got wet, it may have started to rot the roof structure. This would mean more work has to be carried out in replacing this wood.
Why Us?
There are lots of roof leak repair products on the market. Many never perform as well as they should, and you have the aggravation of getting up to the leak in the first place. It is much easier to speak to the ones who know, the ones who do it day in and day out, the professionals.
We have over the years been to assist with quite a few roof leak repair and many in not the best of conditions. It is better for you to call us than risk yourself climbing a ladder in the rain and then trying to locate the spot that you think was leaking.
No matter where your home is located in Peoria, we will be more than happy to visit your home to give you a roof leak repair cost, and in many instances, you might just find that it is cheaper, than you attempting to do it yourself. With our affordable rates, and our timely service, you will be sealed from above ready for the next deluge, and your only problem you will be faced with, is getting rid of that water stain on your ceiling.
From a quick call, you can schedule Peoria Roof Leak Repair service.